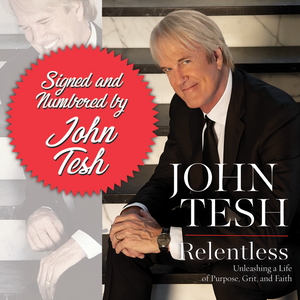 Online Exclusive:  When you purchase Relentless on Tesh.com your book will be Signed and numbered by John Tesh.
John Tesh has achieved more in life than he ever dreamed possible. But the road to success has been anything but easy—and those challenges have become the secret to his success. Through his story, we can learn how to be relentless, how to achieve what we didn't think was possible, and how to handle our inevitable discouragements.
In this engrossing memoir, Tesh describes how the obstacles that shaped him—including being suspended from college, living homeless for months, and facing a deadly disease—shaped his remarkable life. You'll hear, in never-before-told stories, how Tesh became the youngest correspondent at WCBS News less than thirty-six months after he was working at a gas station and sleeping in a public park. You'll go inside the unconventional way he composed the now-iconic theme song for NBC Sports basketball and how he and his wife, Connie Sellecca, created the popular, nationally-syndicated Intelligence for Your Life radio program. From live commentary for two Olympic Games to his decade-long role as co-host of Entertainment Tonight and the outrageous gamble that resulted in one of the most successful Public Television concert specials in history, you'll learn how Tesh applied his unique process of focused practice, grit, and perseverance while maintaining a single-minded pursuit of his goals. In 2015, he fought and received treatment for a stage-three cancer diagnosis, but when the cancer returned, he and his wife turned to relentless faith and divine healing scriptures to manifest a victory over the disease.   
Relentless is an astonishing story of how obstacles create opportunity and how faith will lead to triumph.